GREY Girl Spotlight: Athena Calderone
There's two things that Athena Calderone and Jason have in common: food and fashion. Athena and Jason gathered on a recent Saturday afternoon to sip mimosas, reminisce and, of course, cook! Jason seasoned chicken like a pro, swearing by his instinctual cooking skills, as Athena chopped veggies in a modern, grosgrain-belted GREY day dress. Her love of cooking, hosting and style make her an utterly swoon-worthy #GREYGirl and lifestyle expert. Read below as we Spotlight Athena and share the duo's One Pan Chicken and Roast Veggies recipe.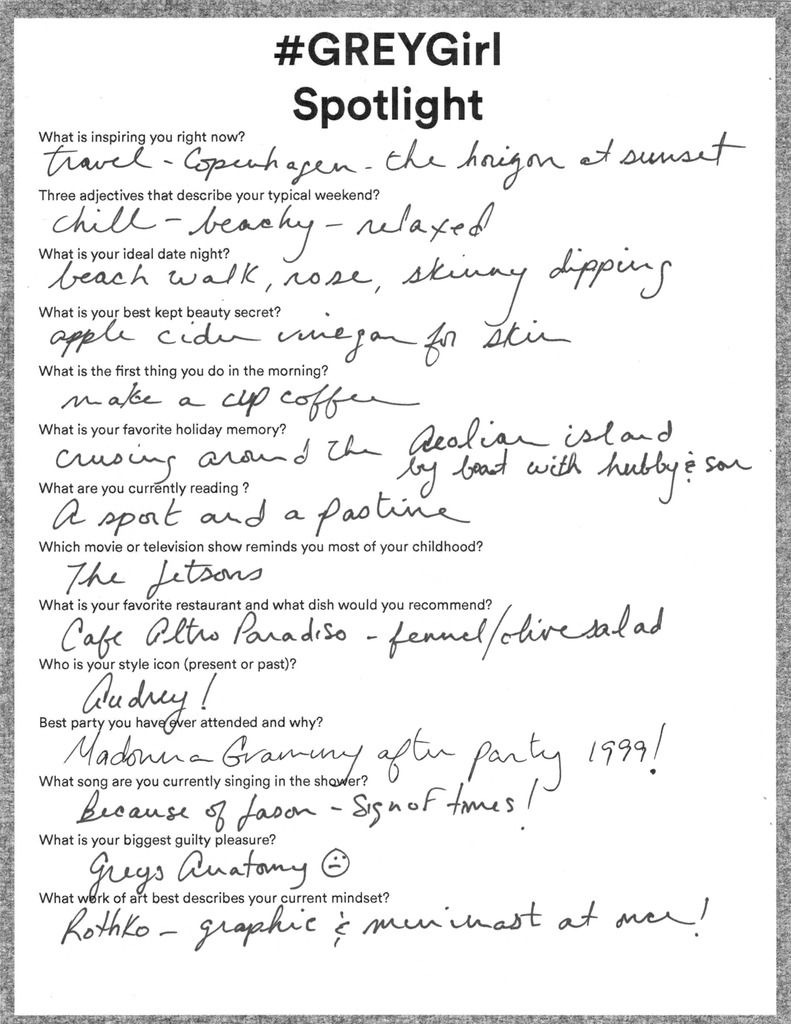 Read about Athena's afternoon with Jason. Shop the perfect dress for a weekend in the kitchen. Tag us on Instagram @GREYJasonWu with your favorite recipes and hosting inspiraiton.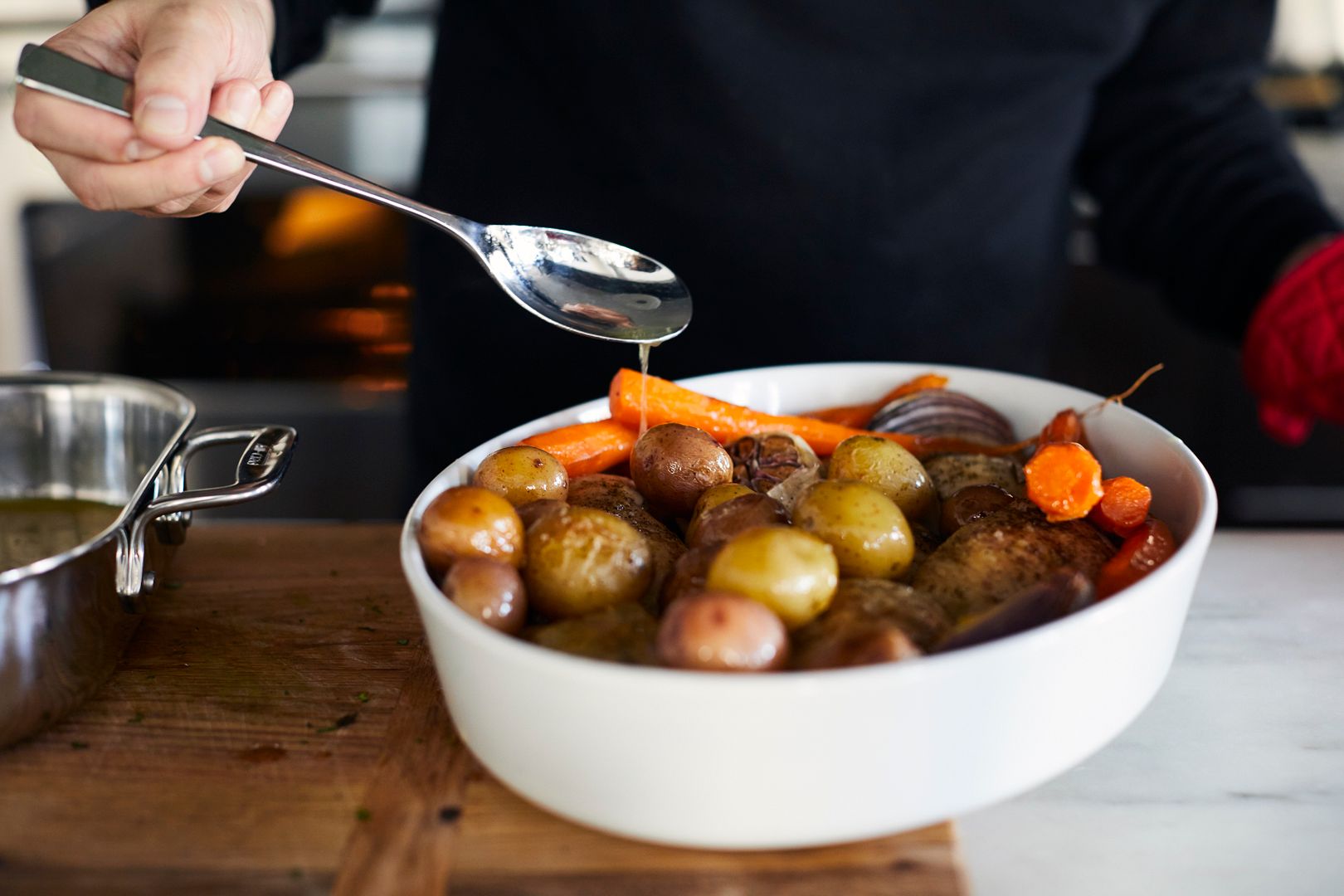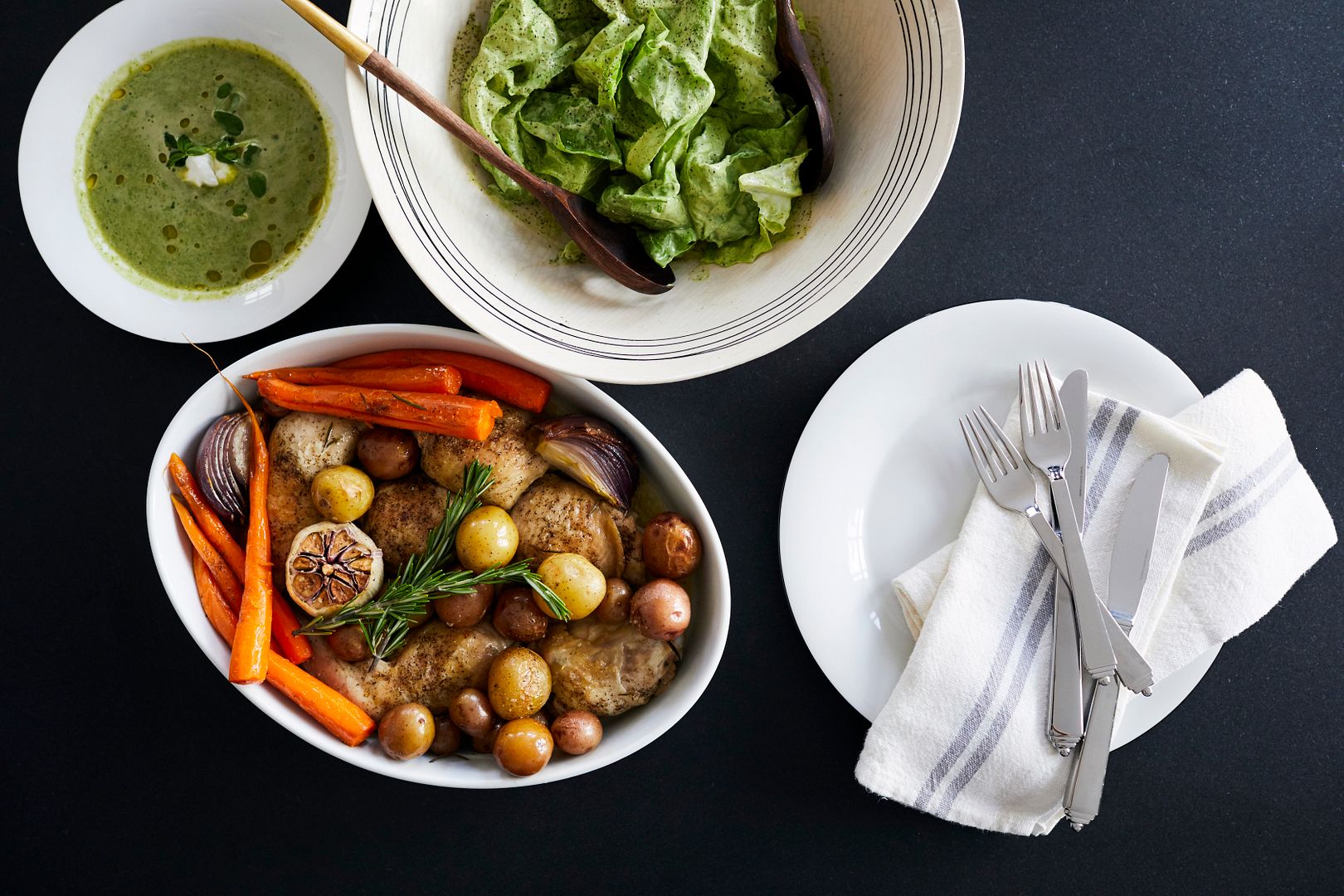 ONE PAN ROAST CHICKEN AND VEGGIES
INGREDIENTS
12 ounces fingerling potatoes, unpeeled
2 red onions, peeled and cut in halves
8 whole carrots, peeled
¼ cup good extra virgin olive oil
2 whole garlic cloves, tops removed
3-4 whole sprigs of fresh rosemary
3½ pounds bone-in, skin on chicken thighs and legs
salt and pepper to taste
INSTRUCTIONS
Place potatoes, onions, carrots, 2 tablespoons olive oil, garlic, 2 sprigs of chopped rosemary in 1-gallon zip top bag. Press out the air and seal; toss to coat. Place the chicken, remaining 2 tablespoons oil, 1 sprig of chopped rosemary, salt and pepper in a separate 1-gallon zip top bag. Press out the air and seal; toss to coat. Refrigerate chicken and vegetable mixture zipper-lock bags for at least one hour or overnight, up to 24 hours, flipping the bag at least once or twice to ensure the chicken marinates evenly if you can. Adjust the oven rack to upper-middle position and preheat oven to 475 degrees. Spread vegetables in a single layer in baking pan and arrange potatoes and carrots along the outside. Season vegetables with more salt and pepper if desired. Place chicken skin side up on top of vegetables. Bake chicken until drumsticks and thighs register 175 degrees, for about 35 to 40 minutes, rotating the sheet halfway through baking. Transfer the chicken to serving platter, tent loosely with aluminum foil, and let rest for 5 to 10 minutes. If desired, return vegetables to oven and continue to bake until lightly browned, 5 to 10 minutes. Toss vegetables with any accumulated chicken juices and transfer to platter with chicken. Serve and enjoy!!