On a warm evening last week in the West Village, Jason Wu and his friend Kate Bosworth co-hosted an intimate dinner at Clover Grocery to celebrate the launch of the Fall 2017 collection with artist collaborators Work + Sea. Kate donned a long sleeve knit polo with quarter zip and contrasting tipping detail, slim tailored checkered pant and black leather jacket with shearling collar from the Fall 2017 collection. She swooned, "What I love most about Grey is that it's very comfortable, but you can still be chic. If you can find that balance, that's the magic spot for me." Kate's classic beauty, warm personality and relaxed yet sophisticated sense of style make her the perfect GREY girl and host.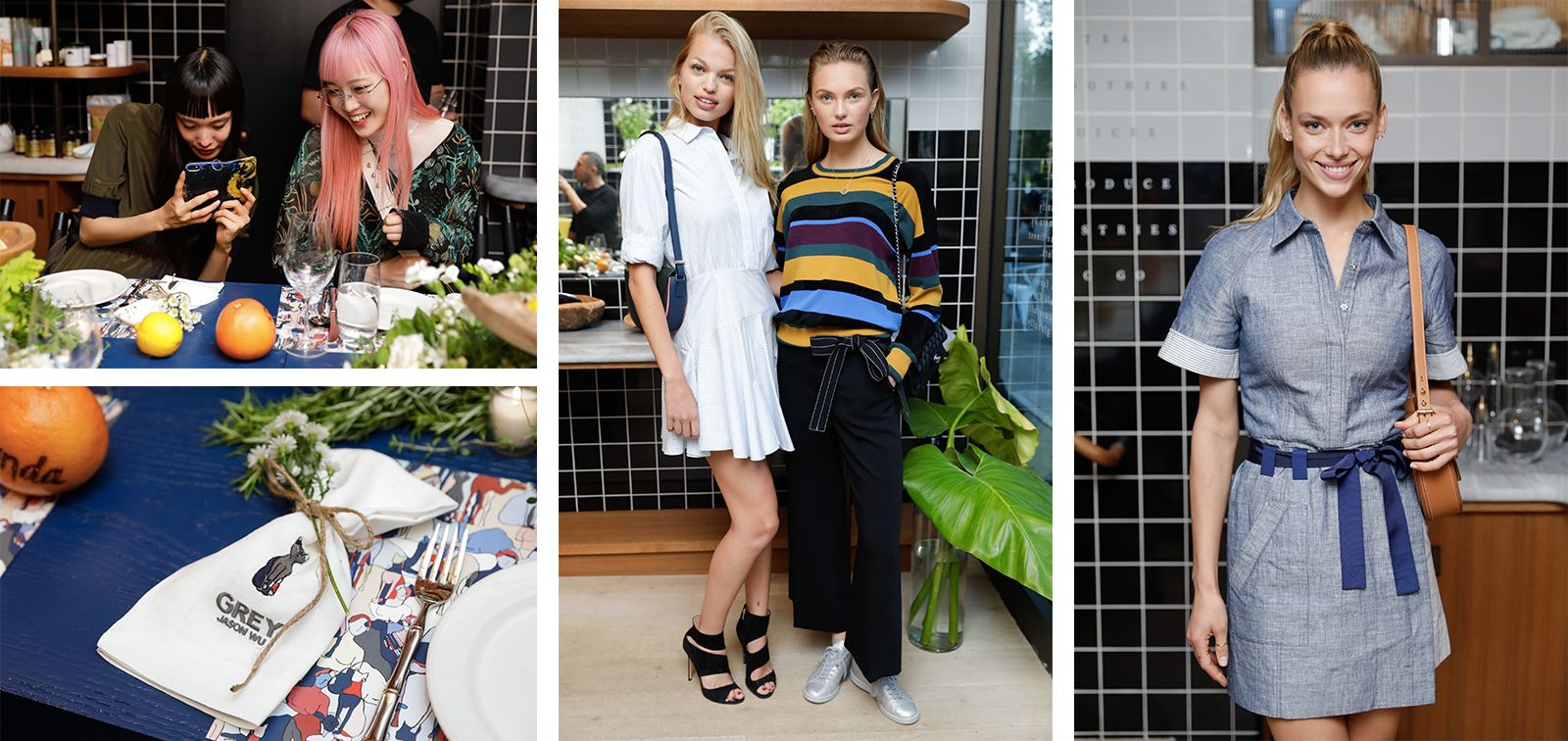 Guests such as Romee Strijd, Daphne Goeneveld, Fenanda Ly, Hanna Ferguson, Chloe Wise, Jennifer Fisher and Leandra Medine were ushered into the grocery store turned dinner party to sip on frozen rosé cocktails blended by Jason (recipe below!). The walls still lined with boxes of cereal, bags of chips and bowls of produce were a subtle reminder that only hours before this was a bustling market. One long table was punctuated with customized dinner napkins and placemats featuring prints from the Fall 2017 collection. Bountiful, sprawling bowls of fresh cut lemons, rosemary, snap peas and greenery filled the air with a lovely aurora. Guests were greeted to their place at the table with lemons and oranges branded with their names. Kate commented about the decor, "Jason is obsessed with every detail, whether it's the clothes he's designing or the table that's been set." Over a course of cauliflower "steak" and chickpea spaghetti, Jason raised a glass and explained through a smile, "I host the GREY Dinner Series because it's a pleasure to be surrounded by friends enjoying great food."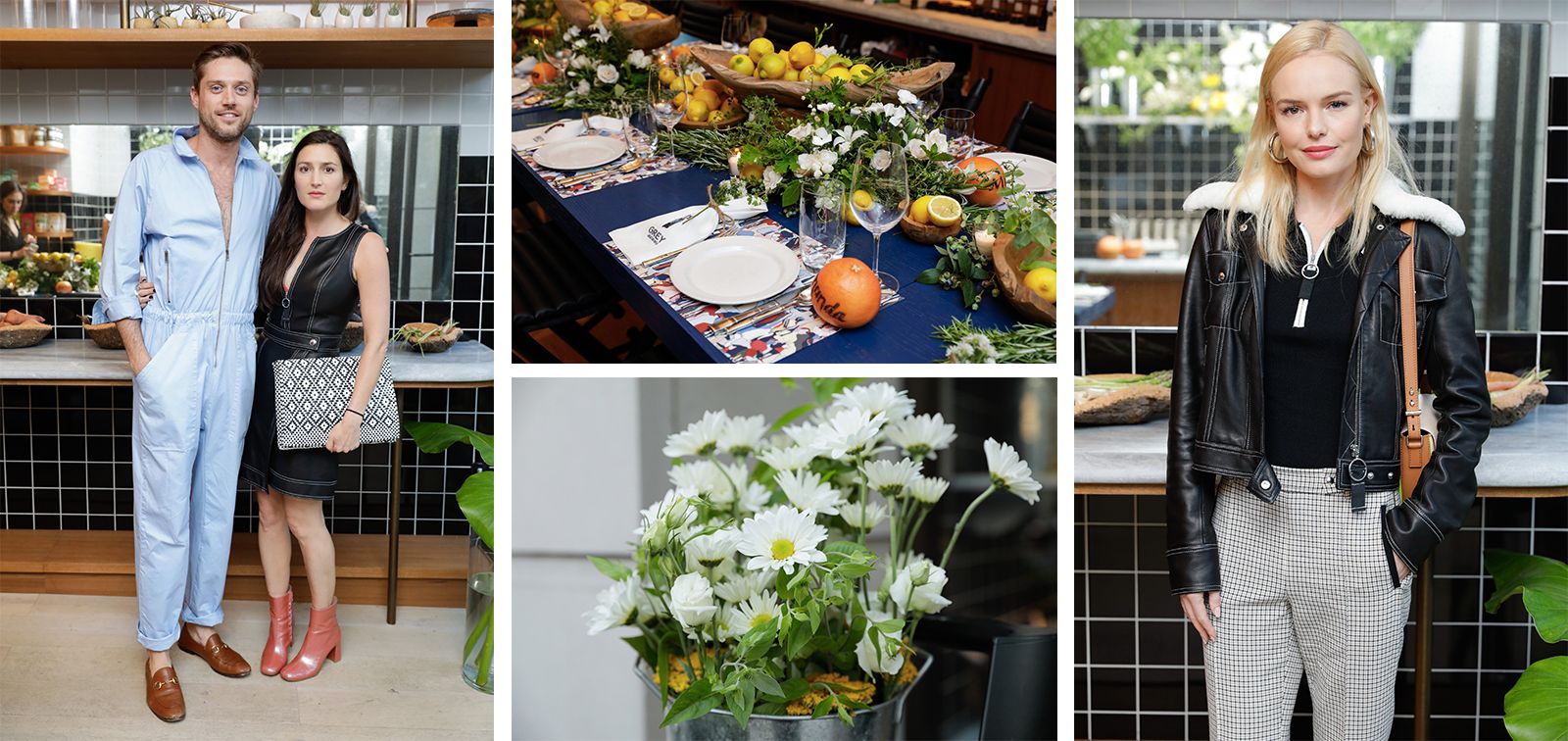 GREY is an outlet for Jason to express the lifestyle interests that inspire him and to collaborate with culinary and artistic muses. Jason worked with Michael and Lara of Work + Sea to create two key prints for the Fall 2017 season: the Foliage Garden print and the CATmouflage print. The Foliage Green print is a floral with a twist, in bright neons and dark romantic greens. The CATmouflage print came from Jason's love for cats. They imagined an Egyptian cat and its relationship to a camel and female bust, which inspired a modern version of camouflage. Guests ended the blissful evening with cookies rendered in the shape of cats from the Fall 2017 CATmouflage that could have doubled as works of art.
Take a look back at Dinner #1, #2 and #3 and read Jason's tips to #HostItYourself.
Shop the perfect look for dinner with friends and stay tuned as the Fall 2017 collection is released next week!
The GREY Jason Wu Dinner Series speaks to Jason's passion for entertaining close friends in a creative and intimate environment. Show us how you host and entertain on Instagram by tagging #GreyLaVie and message us at @greyjasonwu with your ideas for guests, locations, menu items, and hosting tips for future events in the GREY Dinner Series.